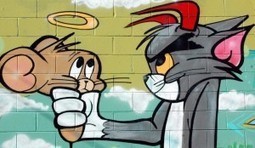 The DVR gave consumers a powerful new weapon in their long running battle to elude the commercial messages that brands spend billions to put in front of them. Increasingly programming is recorded which means that viewers can choose to shuttle past the commercial pod to the next scene.The Walking Dead, which had a blockbuster debut for its third season with 16.1 million viewers, added over 4 million additional viewers from DVR playback over the next 3 days and more further out.
Many viewers who are theoretically watching shows real time are actually watching near real time; they freeze the show for the first 20 minutes and then catch up over the course of the hour by fast forwarding through commercial breaks. The Dish Network offers an autohop feature to make this easy. Even large sports bars are getting into the action. They show games real time but the proprietors switch the house audio to music during commercial breaks.
Car radios had commercial escape buttons almost from the start and increasingly consumers have shifted to commercial free alternatives likeSiriusXM. In fact, avoiding commercial content has become a business model. Consumers can listen to Internet radio with commercials for free or upgrade to a commercial-free premium service. The same goes for streaming video. Consumers have become increasingly savvy about avoiding commercial clutter online. They ignore the column of banner ads, deftly fend off pop-ups, and minimize the screen during video pre-rolls or mute the audio.
Of course advertisers know this and apply strategies to break through with their message. They have play by play announcers plug their products during sportscasts which makes them impossible to tune out. They run advertorials in magazines and newspapers that look like news and are meant to be entertaining to read. They use product placement in movies which though a fact of life today, has a long history. Who ever heard of Reese Pieces before ET? They produce high quality movie trailers and music videos which have the dual effect of entertaining and plugging their product.
In a recent piece, Watching TV Commercials For Fun And Profit, I pointed out that one third of television programming time is devoted to commercial and interstitial content. Some people are actually interested in watching commercials, looking them up on line and commenting on them. The Super Bowl best exemplifies this behavior where big brands have managed to turn the airing of commercials into a must-see competitive event. This is exactly the type of relationship between advertiser and consumer that brands want to tap into.
---
---
Categories: Advertising, Digital Advertising, Native Advertising