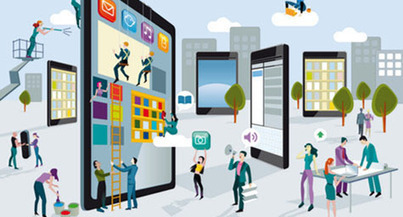 Crafting Brands for Life has been the marketing strategy global consumer goods supplier Unilever has adopted in recent months as it becomes a company that aims to make a difference and affect change in the lives of its customers, as well as selling their products to them.
The strategy is being led by Keith Weed, chief marketing officer for Unilever, who, when The Drum catches up with him in the press room at Dmexco in Cologne, has already been for a three mile run, held a couple of meetings and delivered the keynote talk for the conference.All this and it's only 11am. This is a man who travels the world constantly, and is literally always on the move.
Despite the constant demand for his attention, Weed is found to be an enthusiastic and breezy individual, who has also been heading up the company's sustainability effort, which he needs no excuse to talk about.
"According to WWF we are living off two-and-a-half planets. If the world lived like Europeans we'd need three planets and if the world lived like Americans we'd need five planets," he tells The Drum, explaining that his role was created to combine overseeing the marketing, sustainability and communications coming out of Unilever.
"Crafting Brands for Life was very much what that is all about," he continues, "It's really trying to understand people's whole lives and if you live in the emerging markets, it is making this huge shift from rural to urban. People's lives are changing dramatically…for the first time with mankind we are urban more than we are rural. More people were living in towns last year than ever before and by 2030 the primary habitat of mankind will be slums. You put all of that together and we are a consumer business and we want to grow and serve the 2 billion extra people who are going to join this planet over the next few years, then we'll have to think about how we'll do things differently. So our marketing needs to take this on board."
During his keynote presentation, Weed discusses different campaigns that made up the three pillars of the strategy; Building Brand Love, Putting People First and Unlocking the Magic.
A major factor of following the strategy is the use of mobile as a platform for message delivery, quite literally in the case of the 'One Missed Call' campaign for Indian detergent brand Active Wheel, which would deliver content to potential consumers by calling their mobile phones to provide entertainment, jokes and music.
"If you can get the company more consumer-centric then that is closer to putting people first. But if you are going to build brand love, we have to be where people are and people are spending more time in social and more time with their mobiles. People are anxious when they think they are being separated from their mobile and they are never more than a meter away from their mobile and that level of connection if very powerful if a marketer can get it right."
As to how powerful mobile can be, Weed puts the platform into perspective, claiming that there are over 6 billion mobiles phones in the world, of which 2.4 billion are connected to social networks, meaning that life can be shared in real-time, which is opening up opportunities in emerging markets, describing it as "a jumping technology."
He continues to discuss the Active Wheel campaign, and his visits to village homes in India, where people would guide him around their homes through the light emanated by their mobile phones. "There are more mobiles in India than toilets and toothbrushes," he claimed, describing many of the towns in the country as a "TV dark area" which meat that mobile has become a solution to capturing their attention.
"Mobile is going to have a bigger impact than the Internet had. The internet shook us all up. I think that the mobile is going to shake us up all the more."
Asked about the biggest complexity that digital has created for a global company such as Unilever, Weed believes that it is the "capability build" and the need for training and understanding for 'middle managers' who have been left behind by the speed of the digital takeover.
"If you want to stay in marketing then you have got to make sure that you are a great digital marketer and if you don't want to be that then now is the time to find a different career, as this is only going to become more so," he states.
As for television within the marketing mix, Weed believes that it continues to be the driving force for marketers as they are still learning how to improve ROI from digital, but adds that the platform is less important than the creative.
See on www.thedrum.com
---
---