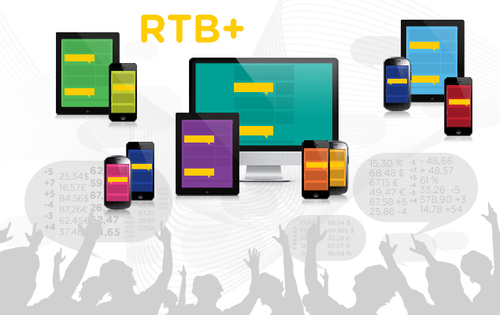 If you're on the creative side of the advertising business, it can be hard to get excited about programmatic buying.  But I am.  It can also be hard to see how it may help us make awesome videos.  But it will.  And here's why.
James Baldwin, Norman Lear, Michael Jackson, James Cameron – these artists carried us from the 1950s through the 2010s with books, television, music, and films.  Their content, until recently, was funded and distributed in traditional, time-tested ways.  Studios and record labels would provide u front investment in asset creation, and then bookstores, movie theaters, and television would distribute the product.  More recently, artists like Louis CK, Zach Braff, and Amanda Palmer, and companies like Machinima and Maker, have used technology to invigorate funding and distribution of their content.  But the one constant is the content itself.  This is what we mean when we say that content is king.
In digital content, programmatic and real-time bidding combined are bringing on the next evolution of distribution. Think of it this way: the combination of programmatic buying and RTB  is like a way to optimize the placement of a Dr. Seuss hardcover in a unique drugstore in a particular town in Pennsylvania, on a specific day at a precise time in the afternoon, in a certain aisle, on a shelf exactly two and half feet off of the ground, seven slots in from the right—just as a little girl, holding her mother's hand, walks by the shelf.  Neither the little girl nor her mother take notice of the holy war on the other side of the aisle – the one that pits other children's authors like P.D. Eastman, Stan Berenstain, and Mo Willems against each other to determine whose book will be placed in the right spot at that exact moment.
As interesting and precise as that scenario is (and by the way, in this situation, it's also the day before the little girl's birthday, the mother has recently been promoted, and the two of them just recently shopped for children's books but neglected to buy this one at the time), it doesn't change anything about the story inside the book itself. At most, it might change the cover of the book — maybe.
And this is why programmatic is awesome for creative people. Making buying and distribution more efficient in every sense also heightens the importance of what is arguably the most difficult aspect of advertising and marketing: the ability to create something interesting that people will want to watch, interact with, talk about and share.
These efficiency tools are likely to bifurcate digital media, with programmatic buying on one side and high-touch, custom partnerships on the other. As more agencies invest in programmatic and reap the buying efficiencies, they'll also have to find new ways to break through the clutter of digital content—and they'll invest the money they're saving into better quality original content such as digital video.
Eventually, all of this buying, both programmatic and high touch, will start to include "TV."  That is the moment when TV commercial production budgets and digital video/content budgets will start to merge and become one. As the marketing experience starts to rely more heavily on opt-in content that is available across screens, only the best content (think Vince Gilligan-levels of quality) will be attractive to an audience.  And so while on the one hand, our digital media investments will be buying inexpensive, effective inventory, this crosschannel convergence will lead to an increased investment in customized, high quality video.
See on www.mediapost.com
---
---
Categories: Programmatic, RTB, Video