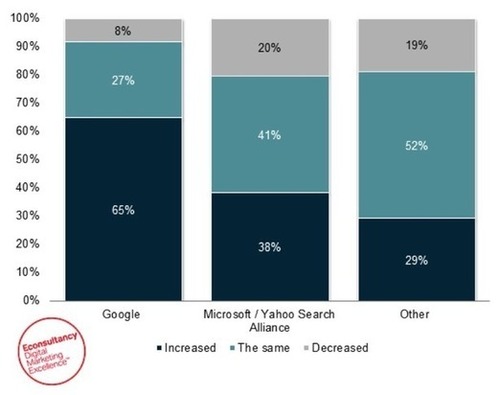 Paid search now accounts for around a quarter (24%) of the average business' total marketing budget, according to a new report from Econsultancy and NetBooster.
The UK Search Engine Marketing Benchmark Report 2013asked respondents about the division of marketing budgets into the search, social media and display categories.
Paid search is apportioned the largest average budget by companies (24%), followed by SEO (18%). Social media and display had equal average share of budget (both 11%).
This figure could potentially increase further by 2014, as more than half of respondents (55%) said they expect their PPC budgets to increase over the next 12 months.
In comparison SEO and social spending were both predicted to increase by 51% of respondents, while 42% said they expect to spend more on display advertising.
The report, covering search engine optimisation (SEO or natural search), paid search (PPC) and social media marketing, is based on an online survey of more than 500 client-side digital marketers and agencies.
Paid search budget
The report also asks respondents how much they spend on paid search each year.
The results are quite varied – a quarter of respondents (25%) spend less than £10,000 a year on paid search, a figure which has decreased from 30% in 2012. The remaining 75% of respondents spend between £10,000 and £5 million on PPC.
As one might expect, Google is the main beneficiary of paid search spending, with two-thirds (65%) of companies having increased their PPC budget with Google this year. This is up from 59% in 2012.
The proportion of businesses increasing their spend with Microsoft/Yahoo has also risen, up from 21% in 2012 to 38% this year.
Similarly, for other search platforms generally, the percentage has increased from 13% in 2012 to 29% this year.
See on econsultancy.com
---
---
Categories: Search