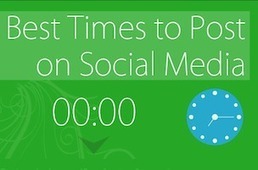 Social media mastery – if such a concept even exists – ultimately comes downs to many things, but one of the most important elements is time.
That is, time in the sense of how much actual weeks, days, hours and minutes you invest in platforms such as Twitter and Facebook, but also in how effectively you figure out the besttimes you should be posting to and engaging with your fans and community to maximise ROI.
Now, here's the trick: timing is much an art as it is a science, and there is no one-size-fits-all approach to this strategy. But by looking at what tends to work well for most brands, and then working backwards from here by doing your own experimentation and tweaking the end results, you can fairly quickly figure out the right approach for you.
Here's a good place to start: this infographic from Fannit proposes the best times to post on Facebook, Twitter, Google+, LinkedIn, Pinterest and blogs. Now go do your homework.
Continue reading on www.mediabistro.com
---
---
Categories: Social Media