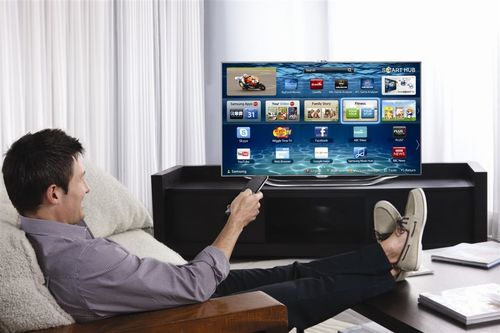 The first-ever US study into the impact of Smart TV advertising and consumer behaviour highlights the opportunity that Smart TV provides advertisers to reach a differentiated audience, validating why Smart TV is an essential component to complementing current TV media plans.
Digital video brand advertising solutions provider YuMe and Smart TV pioneer LG Electronics conducted the study in the United States better to understand how consumers are engaging with ads within Smart TVs, while studying the Smart TV audience's behavioural, lifestyle and psychographic profile data.
Part of a global Smart TV consumer research project spearheaded by LG, the U.S. study examined consumers within a natural living room environment, interacting with and sharing their perceptions of different Smart TV ad formats, while testing brand metrics including recall, favourability, and purchase intent.
Among the report's findings:
Smart TVs are an effective advertising medium when accompanied with traditional TV advertising. While pre-roll and accompanying companion banner advertising performs well across all brand and ad metrics, the study found that full-package ads are most effective.
Ad targeting and relevance are keys to driving impact. Sixty-seven percent of respondents indicate that they have engaged or would consider engaging with a Smart TV ad because it advertises products/brands they are interested in.
"Smart TV creates a unique and exciting opportunity for consumers to interact and respond directly to an ad in-screen, which has not been possible with traditional TV," says Youngjae Seo, Vice President of Smart Business Center at LG Electronics. "The research clearly underscores that brand advertisers can find better ad campaign effectiveness and ROI on Smart TVs when accompanied with traditional TV."
Among pertinent usage and user demographics:
Smart TV owners enjoy and prefer their devices over traditional TV sets. Ninety percent of Smart TV owners are satisfied with their devices and 81 per cent prefer using a Smart TV over a traditional TV set.
The Smart TV is being used for more than just TV. Many users report high app usage and seventeen percent are likely to decrease or cancel their cable subscription in the upcoming year – a 13 per cent increase from last year.
Viewers of Smart TVs are generally young, higher income professionals. Smart TV users are tech-savvy professionals with an influential role on household purchase decisions. They are also likely to pay a premium for the latest technology and brand names.
Users of Smart TVs can be categorised in four distinct user segments. Among the four segments–affluent technologists, social youngsters, traditionalists and mid-life families – affluent technologists and social youngsters were most receptive to Smart TV advertising.
"Thesults not only affirm a growing Smart TV market, but also highlight a tremendous opportunity for advertisers to increase brand engagement through Smart TV," says Michael Hudes, Executive Vice President of Emerging Markets, YuMe. "By understanding how people engage with Smart TVs, advertisers can better plan and target their audiences to improve brand awareness."
With global Smart TV shipments reaching 12.7 million units in the first quarter of 2013, the appetite for Internet-connected TV is growing among consumers, creating a thriving platform for brand advertisers, say the report's commissioners.
The study was conducted on behalf of YuMe and LG by Nielsen as a pilot study in the form of a gang survey of 500 participants in June 2013.
Continue reading on advanced-television.com
---
---
Categories: Television