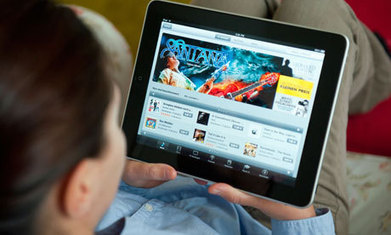 Opinion: The divergence of TV campaigns and digital direct-response campaigns is leaving second-screen premium digital brand opportunities untapped
Today's consumers occupy a multi-screen world. They're online, they're mobile, they're watching TV – sometimes all at once. That fragmentation presents a challenge for marketers seeking to reach a given audience, not only in terms of finding the media that's reaching that audience but also to deliver a campaign at scale. At its simplest, this is why multiscreen advertising campaigns are vital for brands wishing to stay relevant, effective, and competitive.
There are other good reasons, of course. Just as retargeting ads boosts awareness and recall, a campaign that appears on several screens has a multiplier effect. Dual-screening, where several channels are synchronised to work together (often by the companion device to the main screen syncing to the main audio) is perhaps the most striking example of how a multi-screen campaign can add value. On top of repetition, the campaign's effect is amplified by the dialogue between the devices creating a richer or more interactive experience.
For example, while a TV spot may present a brand in a gorgeous HD widescreen format, a smaller second screen like a tablet or smartphone can be presenting options to interact.
An early example of this was O2's use of a second-screen strategy to get web viewers of The Million Pound Drop to watch its own four-minute video online. With viewers already encouraged to play along with the TV quiz via an online game, the point where the TV show cut to a commercial could be twinned with a synced online ad. O2 purchased the first break in the broadcast to air a music video by rapper Tinie Tempah that co-starred an O2 subscriber. Some 17% watched the entire video and more than 2% clicked through to additional content. The O2 campaign helped to move viewers deeper into their branded experience.
Getting in sync is powerful, but even where the ads are hitting different screens at different times, the awareness that can be created by a campaign that crosses the spectrum of media is not to be sneezed at. Look at award-winning campaigns like Dumb Ways to Die. This Australian rail safety campaign spun a great piece of creative video into a TV spot, a viral hit on YouTube and a fiendishly addictive (and wonderfully silly) game app.
Indeed, Dumb Ways to Die showed that offering a more fun or interactive experience via a multiscreen approach allows a campaign to generate secondary value via social media – making the jump from paid media to an earned audience who are distributing your content for you.
Breaking silos

While dual screening is relatively sophisticated, delivering campaigns across a range of media sounds straightforward – obvious even. So why aren't all campaigns multiscreen by default? A large reason is cultural. As marketers, we've grown used to thinking of and doing things a certain way.
We have assumptions about media. Big branding campaigns tend to gravitate towards the richness and large audiences of television, whereas direct response campaigns have favoured the immediacy, measurability and personalisation options offered by online. Marketing budgets have been split to address these seemingly divergent goals, with different agencies (or discrete teams within agencies) handling different types of campaign or media buy.
But that status quo needs to change. Content for TV spots can be adapted as online video, personalising the content for a given user or adding social elements that encourage sharing or adding calls to action to move people further towards a sale. Meanwhile, the capability of rich media ads and online video is creating a premium space for brand campaigns on the web.
To create campaigns that can utilise this fluid media landscape, marketers need to adopt a more flexible way of thinking and tackle some of the structural issues that push different channels into silos. Brands should encourage collaboration between agencies. If they have an agency that does digital and an agency that does TV, they should encourage those teams to work together. Or, if they're working with one agency that does both, they should challenge that agency to show that those teams are collaborating and benefiting from sharing each other's ideas.
The technology is here. It's now time for marketing to get in sync with a multi-screen world.
See on www.theguardian.com
---
---
Categories: Second Screen