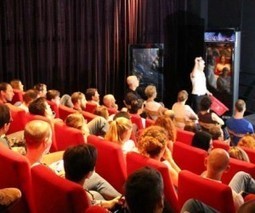 It's a crazy noisy world out there today, and trust me, no one's more aware of this reality than the ad world. Advertisers pay for 99% of our media entertainment and yet they have to beg for morsels of our time like a corporate Oliver Twist in a $3,000 business suit asking, "Please media consumer, may I have some more?"
The facts of this new media world mean that we consumers never have to pay attention to another advert ever again. So if we don't have to pay attention, advertisers have to make us want to pay attention. In order to pull that off, the term 'creative' can no longer refer exclusively to the ad message, or too often that message is going to be ignored. Instead, our notion of creative must be  expanded to include the message delivery system as well – i.e. ad-tech.
Today (Wednesday) at the McCann Erickson building in Tel-Aviv and in conjunction with Geektime, the hottest new technologies in ad-tech were on display by nine Israeli startups showing off their solutions for how they plan to recapture the double-take inducing power of advertising over the consumer. What follows is a brief description of each of these nine companies and the technology they're bringing to the table:
TinyTap
TinyTap allows brands to host their own branded children's game development environment where parents can design and piece together learning games for their toddlers. The interface is super intuitive allowing for any parent who can swipe through an iPad to be able to design and create their own games in seconds – irregardless of a complete lack for technical knowhow.
The branded games promote brand loyalty and brands are even able to host their own internal game storefronts within TinyTap's platform.
MTS Advertising
MTS (which doesn't have a website yet) uses smart adverts that analyse consumer purchases at the register and serves up deals on complementary products. So far it sounds pretty standard but the company took things a step further and incorporated a Kinect-based interactive gesture platform that encourages consumers to interact with the ad in-store.
For example, children (or adults, I guess) perusing the dairy aisle might find themselves bobbing for chocolate milk bubbles in a gesture based augmented reality game to win a discount coupon for a fun-pack of chocolate milk singles.
Zeekit
Zeekit is an augmented reality platform that allows consumers to highlight any element of a picture, making that element formattable to color and texture changes by the user.
Consumers can 'try on' different colored clothing articles, shades of lipstick, colors of eye glass frames – they can even see how a certain carpet or furniture texture might go with their new office. Users are then able to share their top options with their social networks and get feedback as to what to purchase while they're still in the store.
Continue reading more on thenextweb.com
---
---
Categories: Advertising, Digital Advertising