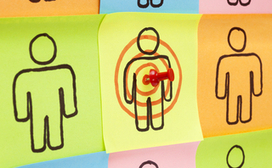 What is retargeting used for now? And what would happen if you combined it with marketing automation to do digital nurturing?
In a recent research study on B2B demand generation, I found that 76 percent of the world's largest software as a service (SaaS) companies use some form of retargeting. However, many marketers have told me that they don't think retargeting is effective, which I would have to disagree with. Let's equate online ads to email 10 years ago – they're disruptive and don't pull data dynamically from other marketing mediums. However, just like email nurturing gave email new life, I believe combining marketing automation with your retargeting solution will breathe new life into online ads. Once this happens, lead nurturing will no longer be an email-only tactic, but a technique that can help marketers grow relationships over any advertising medium.
The idea is simple. If you can nurture people with email, why can't you do it with ads, too? Until recently, you could only use a single dataset of your website for segmenting your retargeting ads. But what would happen if you could drive your online ads from the same data you currently use to power email nurturing programs? What happens when you tie marketing automation data and retargeting's reach? To dig deeper into this idea, I connected with Lauren Vaccarello (@LaurenV), the CMO of AdRoll (@AdRoll), to get her thoughts on the concept of digital nurturing.
The big question I wanted to discuss with Lauren was whether or not marketers could nurture people with online ads. Lauren and I explored this topic over a few days, covering both the basics and the advanced nuances of this idea. While the discussion covered some more advanced topics, the concepts are actually pretty simple. What is retargeting used for now? And what would happen if you combined it with marketing automation to do digital nurturing? Here are a few of the notes from our conversation:
Mathew Sweezey: How do most people use retargeting currently?
Lauren Vaccarello: A starting point for most companies is to use retargeting as a customer acquisition tool. It is a great bottom-of-the-funnel tactic to get people who have abandoned shopping carts or forms, and reengage with them so they come back to your website. As marketers, we spend the majority of our time optimizing around the 5 percent who convert immediately. Retargeting lets you market to the 95 percent of people who aren't ready to buy right away and bring them back into your funnel.
MS: What is the typical ROI from just following people with targeted ads?
LV: We have a great customer, Udemy, the largest site for online, on-demand courses, who started with retargeting as a way to drive course sales. Once they combined that with dynamic ads that would show the most recent course someone viewed, their already high ROI increased by 600 percent.
MS: Can the ads change based on real-time data – the same data that I use to develop my dynamic lead nurturing programs?
LV: I love this question! Retargeting is all about using customer intent data to build marketing strategies. The way we look at building bidding algorithms and optimizing retargeting is all about using intent signals like pages visited, time on site, purchase history, and recency to make the most out of a campaign. All of these pieces already exist as part of IntentIQ and can be used. What I'm really looking forward to is integrating all of those pieces with other data sources like email open rates and lead scores to build a lead nurturing program that combines email with a corresponding ad campaign. There are some hacks, but we aren't there yet from the standpoint of an out-of-the-box product offering. We are always looking for alpha customers who want to test out some of the new ideas we are developing.
For all of you marketing junkies out there – just think what could be possible once you connect the data and tools together. You could have an ad take into account your full marketing knowledge of a person by changing the color of the ads based on which colors they've engaged with best, changing your calls-to-action to the ones that have worked the best for each particular prospect, or changing your offers to the ones they have shown the most interest in.
But before the dawn of a new age of marketing, let's take a step back. When will this happen? Lauren expects this to be something you can see in alpha stages popping up in 2014. Secondly, could this extreme nurturing backfire for some people? Yes, just as email backfires on those who use it incorrectly, this technique will do damage if not used correctly. However, if and when digital nurturing comes online, there will be plenty of new opportunities for those smart, adventurous, tactical marketers.
Once people are able to combine real-time data from their marketing automation tool, ads will leave the world of "noise," and enter the world of "must-have." Case in point: 76 percent of the most progressive companies are already getting a lot out of retargeting without having two connected data centers. Imagine the future of online advertising once they are connected!
Continue reading on www.clickz.com
---
---
Categories: Audience Targeting, Digital Advertising, Retargeting