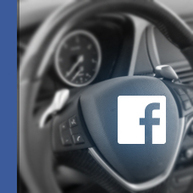 In our recent Facebook Study of the Interbrand Top 100 brands, five automotive brands ranked among the top ten most engaging brands, and the automotive industry drove the highest Facebook engagement rate, more than twice the Interbrand average.
Using Simply Measured's Facebook Competitive Analysis Report, we took a closer look at how top automotive brands are performing, and what they're doing to drive engagement.
The top five automotive brands: Ferrari, Mercedes-Benz, BMW, Harley-Davidson, and Audi dominated the top ten spots as the most engaging Interbrand companies on Facebook.
Not only where automotive brands able to claim half of the top spots, but each of the top automakers has audience engagement rate that exceeds the Interbrand average of 12%.
Automotive brands are driving impressive engagement levels, not by having larger audiences than other brands, but by posting more of the content that their fans love to engage with.
Analysis of the Top 100 Brands showed that photos are by far the most engaging content type, averaging 9,400 engagements per post, followed next by video with 2,500 average engagements. The brand content comparison above shows that photos account for more than 90% of Facebook posts for most automotive brands.
In fact, automotive brands place far more emphasis on visual content (photos & videos) than average Top 100 companies. Visual content accounts for more than 94% of automotive brand posts, compared to just 80% of posts from other top brands.
Top automotive brands aren't just showing off recent models from the showroom floor, they're using Facebook photos to tell their brand's story. Brands like Ferrari, Mercedes-Benz, and BMW use Facebook to showcase race photos, touring pictures from around the world, concept machines, and vintage beauties.
Continue reading on simplymeasured.com
---
---
Categories: Brand, Social Media