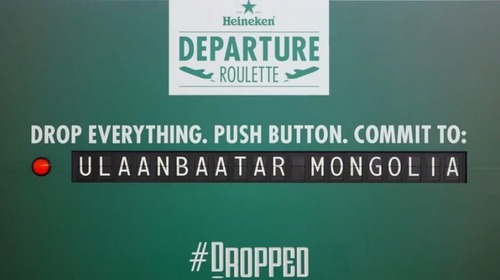 Check out a great Heineken campaign that asks us … if we could do anything … would we?
Sometimes you stumble upon marketing that is just flippin' awesome. Today, that's Heineken. As part of its globalLegends campaign, Heineken released a video about a game of Departure Roulette it played with airport travelers.
The concept? Heineken sets up a Departure Roulette board, and tells travelers they can trade in their airline tickets for wherever they're flying now, and agree to go to whatever destination the Departure Roulette board randomly turns up. They are just … #dropped somewhere. (That wasn't a hashtag hijack; that's the hashtag for their campaign.)
Try to watch it and not get excited.
Why is this video awesome? I think it's because it makes you think of possibilities. We're all really good at making excuses for why we can't do something … but what if you totally coulddo it? Right now. No excuses.
And in watching the people who actually jump at the chance to play this game, and the emotions they go through — when they decide they're actually going to do this, before they hit that red button, when they see the locations flipping through, when they think about what location they'll land on, when they see where they're going, when they realize OMG, I'm actually doing this — the viewers go through all of it, too.
The video ends with a great screenshot, too. The Departure Roulette board says "Drop everything. Push button. Commit to: WHAT WOULD YOU DO."
My only question is … do they provide hotel accommodations, too? 😉
Continue reading on blog.hubspot.com
---
---
Categories: Brand, Case Study