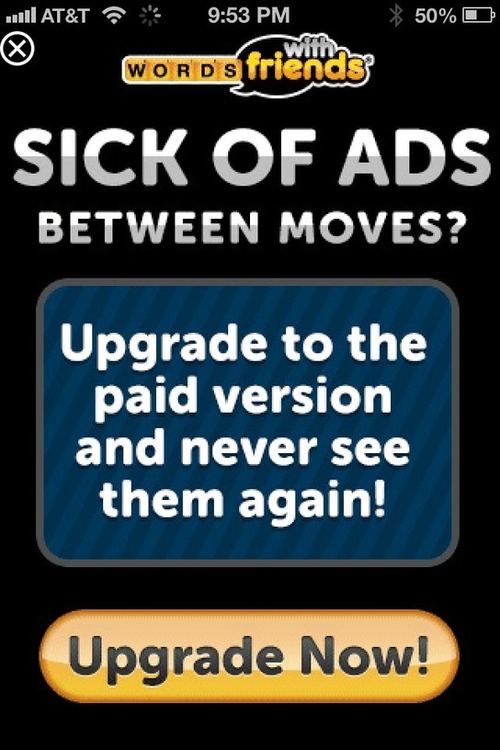 Imagine this pitch: We're going to take your ads and shove them in people's faces. We'll do it so persistently and annoyingly that if users really like our product or service, they will pay just to get rid of the ads. Your ads. Sound good?
I'm sure that's not the way Zynga is pitching its mobile ads to advertisers, but that's the way ads on apps often work in practice, and the way a lot of app makers attempt to convert free ad-supported users to paid.
You can't blame app makers, game companies, news outlets (including Ad Age) or anyone in the business of making content for wanting dual revenue streams, one from advertising and the other from consumers. The ad business, increasingly, is a giant scale game with low margins for publishers. And hey, dual revenue works great for cable TV!
But when the avoidance of ads become the up-sell, advertisers have to ask themselves: "Is this how I want my ad budget to be used?"
Freemium means giving uses a free service (often to get them hooked or build scale for advertising), and then a paid version with added features. It works fantastically well for a lot of apps including Spotify, Xobni, Pandora, TripIt and Angry Birds (on Android). The strategy appears to be working for Zynga too. The $2.99 ad free version of Words With Friends is No. 36 among top paid apps on iTunes.
But when converting users to an ad-free environment becomes the goal, the ads necessarily become cannon fodder designed to take users to that exact moment of exasperation when they finally decide they'd rather pay than deal with it.
As an observer of advertising and marketing I don't mind the ads between moves on Zynga's Words With Friends — I'm interested in the studios disseminating video trailers for weekend openings, or seeing how marketers like Delta are trying to do TV-like branding there. Improbably, Zynga serves me more video ads on my phone than any other app I use.
Continue reading on adage.com
---
---
Categories: Digital Advertising, Trends