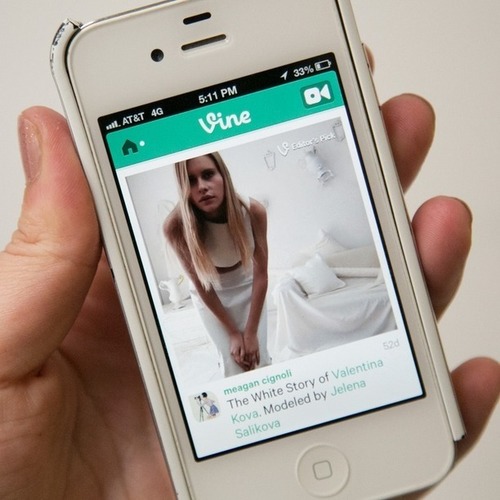 Fashion brands are using Vine to showcase product and people in new and creative ways.
The fashion industry immediately embraced Vine, Twitter's 6-second video app, after it launched in February. It was no surprise Vine was suddenly so popular: The app was released just two weeks before New York Fashion Week kicked off, a time when behind-the-scenes runway shots were readily available to capture and share in 6-second loops.
But Vine is much more difficult to make look beautiful and polished than Instagram photos, and brands quickly discovered that to participate, they needed to relax their typically stringent production quality requirements. Perhaps that's why, following the shows, most fashion houses dropped the platform altogether, only returning to it, in some cases, for the menswear shows in London and Milan earlier this month.
That's not to say that Vine's fashion future is dead — it's merely getting a slow start.
Early data indicates that Vine videos are shared four times as often as other kinds of Internet video, and the launch of video for Instagram, which many brands have already enthusiastically adopted, is creating further incentive for fashion firms to ramp up their capabilities and resources in this area.
Let's take a look at a few fashion brands using Vine to exceptional effect.
Stop Motion Art
Stop-motion artists are among Vine's most popular users. Eyeing this trend, French Connection collaborated with photographer Meagan Cignoli to create a series of highly shareable, summer-themed stop-motion videos. In one video, the brand's latest collection packs itself into a suitcase for a holiday. In another, various outfits are laid out and rolled up on the beach.
Cignoli tells me that each video typically has between 100 and 120 separately recorded clips. The result is incredibly fluid and eye-catching, instantly negating any notion that Vine can't be a platform for quality creative work. Online retailer Nasty Gal is another standout for stop-motion inspiration, weaving playful, wiggling pieces of candy in and around products like handbags, shoes and makeup. Burberry, too, has used stop-motion video to showcase product prints and patterns, as well as celebrities present at its last menswear show.
Showcasing Product Details
The beauty of the French Connection work by Cignoli is that it places products front and center, but it's so creative it doesn't feel like marketing. Marc Jacobs is another example of a designer who is doing this, releasing some nice stop-motion work that features handbags on what looks like a rotating conveyor belt.
For others, Vine presents an opportunity to demonstrate the work that goes into making products. Matthew Williamson did this during London Fashion Week in February with his #matthewmagnified campaign, and Oscar de la Renta, through the handle OscarPRGirl, used Vine to detail the craftsmanship that goes into its bridalwear pieces.
Gap is also using Vine to highlight key pieces in-store, but takes a more editorial approach, employing models for its videos. In one, a woman spins around in an assortment of dresses. In another, a young girl plays in the latest DVF GapKids collection in the park. These are much more developed than the clips that debuted during fashion week season: a haphazard amalgamation of garments on hangers and poorly lit models on runways.
Continue reading on mashable.com
---
---