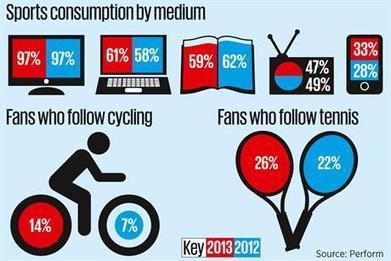 Research finds social media boosts brands for sports fans. Campaign, first for advertising & creative news
Fans who engage with sports on social media are more likely to have positive feelings towards brands and sponsors, according to new research by the online sports media company Perform.
The study found 97 per cent of UK sports fans consume sports on TV, while online has leapfrogged print to become the second-biggest medium at 61 per cent.
Twenty-eight per cent of fans who use social media are more likely to be interested in a brand that sponsors or advertises around a sport, and 25 per cent are more likely to buy a product or service. This compares with a respective 20 per cent and 17 per cent of all sports fans.
Sports fans are also spending more time with sports content at an average of 8.1 hours a week in 2013, up from 6.2 hours in 2012.
Football remains the most popular sport in the UK. It is followed by 44 per cent of adults, up from 43 per cent in 2012. Formula One is the second-most popular, followed by 27 per cent of adults. Tennis is followed by 26 per cent, up from 22 per cent in 2012.
The sport whose proportion of followers increased by the biggest margin was cycling, which jumped from 7 per cent to 14 per cent.
Continue reading on www.campaignlive.co.uk
---
---
Categories: Digital Advertising, Social Media