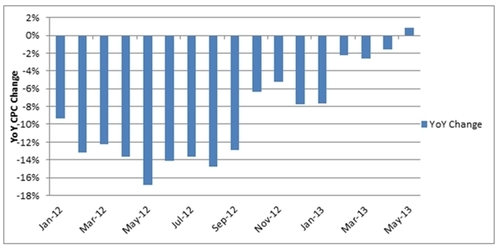 When Google GOOG +1.28% in February made the biggest change in years to its lucrative ad system, the main upshot was that advertisers looked likely to have to pay more for mobile ads. According to one new study, it's working for Google–whether advertisers like it or not.
Adobe's Advertising Solutions business said in findings just released that Google's ad prices, measured in "cost per click," rose in the period from March through May for the first time in almost two years. The 6% rise in CPCs came despite a customary decline in ad prices in March as retailers back off holiday spending increases.
Essentially, the change to Google's AdWords system, called "enhanced campaigns," didn't allow advertisers to run ads only on smartphones or tablets. That encouraged–or forced–many advertisers to serve ads to mobile devices concurrently with serving them to desktop or laptop computers. Google pitched the change as simplifying the process of running ads on tablets and smartphones, which it does. But it also meant that ad prices overall rose.
And according to Sid Shah, Adobe's director of business analytics, prices should rise 5% to 10% in the next six months, as the change that has been voluntary so far becomes mandatory as of July 22. If Adobe's right, that would go a long way toward easing a major concern of investors: that cheaper mobile ads have been depressing the search giant's revenue growth.
Update: It seems Google is not so sure about the utility of Adobe's number. A spokesperson sent this statement from the company: "There have been many speculative reports, but it's far too early for any of them to be reliable. Advertisers will choose their bids and adjust their spend based on the value they see in their campaigns."
In any case, the impact won't start to become apparent to investors until Google reports its second-quarter earnings results next month. It's not clear how much of that impact is priced into Google's shares, which closed up 1.3% to $886.25 on Monday. That's somewhat below Google's all-time high of almost $916 hit in mid-May.
Continue reading on www.forbes.com
---
---
Categories: Search