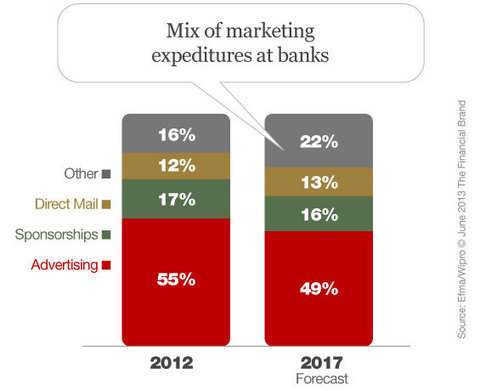 In the next decade, bank and credit union marketing will look very different than it does today, as traditional media surrenders its position of dominance to digital and online channels. That much is clear. What's less certain is how — indeed if — social media will play a central role in growing new relationships.
The year is 2017. No longer can bank and credit union marketers hide behind the vague and ambiguous ROI that plagued the traditional marketing campaigns of years gone by. That's because everything (that matters) is happening in the digital universe. And that meanseverything can be monitored, measured, quantified, defined and tracked.
"Why are we running generic billboards on the highways," CEOs will ask their CMOs, "when we can deliver targeted product offers with specific relevance to a unique market segment?"
in other words, how can financial institutions justify traditional marketing investments when offers can be delivered with measureable pinpoint accuracy in digital channels?
Huge Unrealized Potential
A study from the European Financial Marketing Association (Efma), in partnership with tech vendor Wipro, has released a study examining how digital technologies, social media and the explosion of online data are redefining engagement models in the retail banking space.
In the Global Retail Banking Digital Marketing Report, Efma and Wipro assert that the proliferation of banking channels has rapidly changed the way consumers use financial services, and will continue to do so at a breakneck pace. Digital will promptly be the reigning champion for many (most?) financial interactions, forcing banks and credit unions to evolve their marketing efforts from broad brand-based and branch-focused campaigns to a true, integrated, multichannel approach. One big question looms in the background: Why haven't financial institutions done this already?
Researchers from Efma and Wipro were dismayed by how long it's taken financial institutions to develop their digital marketing capabilities… that is, as far as they have to this point. There's clearly still a long way to go, and the potential for improvement at most banks and credit unions is huge.
Continue reading on thefinancialbrand.com
---
---
Categories: Advertising, Digital Advertising, Research