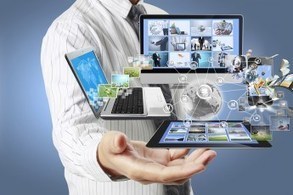 Brand marketing is a discipline powered by technology. These days there is no denying that the digital world has moved in on many aspects of the technology field. Not to mention that everything digital is controlled and managed by software — from social media monitoring to analytics, to bidding for advertising, to web content. These are the tools modern brand marketers need toengage their audiences.
More and more, marketing teams need someone who can manage all the digital assets they generate, including brand content. Just ask Scott Brinker, Co-Founder and CTO at Ion Interactive and evangelist for marketing technologists, who recently asserted that, "It makes sense for marketing to have people in the ranks [who] deeply understand technology and can help with strategy; help other marketers in the department to leverage technology to maximum advantage."
As businesses strive to keep up with the competition — and their use of the latest digital marketing tools — technology products and solutions have begun to eat up more and more of their marketing budgets. Therefore, marketing leadership needs to empower someone to govern those products; someone who can understand how those products align with the company's overarching marketing mission and can intelligently discuss both the technology and marketing sides of the equation. Though a CMT should collaborate closely with a company's IT team, it is absolutely a distinct role, with distinct responsibilities. Enter the emerging role of chief marketing technologist (CMT) — an essential part of any successful brand marketing team.
While companies can approach this role in different ways — and designate it using many different job titles — the important thing is to appoint one person to the job of leading technological change as it relates to the marketing department.
Responsibilities of a CMT
Whatever title you give it, according to Brinker, the person who fills this role should be responsible for three critical tech-related functions within an organization:
Advice: The CMT must advise the chief marketing officer about the strategic operations of technology and collaborate to identify technology solutions that will help achieve the organization's marketing mission. The CMT should be the point person for continually evolving and improving the company's use of technologies, systems, and innovations as they relate to marketing.
Operations: The CMT should serve as the senior manager of the marketing technology stack, including selecting technology solutions, integrating them into existing systems and processes, and providing support for their use by the marketing team.
Education: The CMT must continually educate marketing team members on the latest technologies in order to raise their level of expertise, as well as their understanding of how creative and technology can best work together.
Continue reading on contentmarketinginstitute.com
---
---
Categories: Leadership