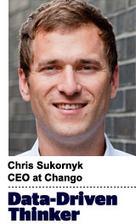 Programmatic marketing is still a relatively new phenomenon. Those who are familiar with the practice at all often assume that it's merely a direct-response tool for media buyers participating in real-time bidding. But programmatic marketing, which is better defined as a way to deliver relevant and unique messages to individuals based on their online behavior, is quickly evolving beyond direct response.
Let's look at the two fundamental ways to use programmatic marketing for content campaigns.
On-Site Content Optimization
We're all familiar with very basic data-driven content optimization, such as Amazon's product recommendations. But product recommendations don't have to be the beginning and end of content optimization. Every publisher can benefit from dynamic content that speaks to individual users separately from the entire audience.
Let's look at GE as an example. When someone visits a company blog, such asgereports.com, marketers can find out the type of content that visitor previously viewed from GE's network of websites and other sources. Among other information, marketers should have data on the previous sites the user visited and his or her search history.
Why is that important? Because with that data at hand, marketers can direct users to the articles and videos most likely to interest them.
There's no reason every visitor to gereports.com should see the same homepage, for example. Why not use users' search-engine data to automatically feature — on a personalized homepage — articles about products the user has searched for? Or use data from the user's browsing history to deliver content that highlights products the user has browsed on other GE webpages? All you need to deliver a better user experience is a little data and a little imagination.
Off-Site Content Optimization
Most people associate retargeting with display ads; often, unfortunately, with brands such as Zappos, which has earned a reputation for stalking users with ads for every last pair of shoes they viewed online.
But the beauty of programmatic marketing is that it isn't limited to display ads. Brands can now use on-site data to deliver content as well. Take the Tide Loads of Hope campaign. If Tide is willing to invest a fortune in advertising and PR to drive consumers to a corporate social responsibility program, it only makes sense for the company to spend a bit more to continue engaging consumers once they leave the Loads of Hope site.
Continue reading on www.adexchanger.com
---
---
Categories: Programmatic