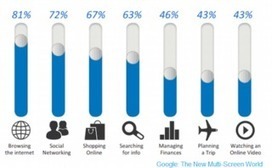 Brands and businesses were initial skeptical about the validity of social as a marketing and business development channel. Now, it seems the pendulum has swung to the opposite extreme.
The hype around Facebook and social media in general, appears to have dulled the senses of marketers and brand managers. Consequently, many have handed over the keys of the kingdom when it comes to protecting the integrity of the brand, the relationships created, and optimum return on the investment in social.
Why should brands make the website the ultimate destination, rather than leaving engagement and relationships to reside on social media platforms?
Reason 1: Possession is Nine-Tenths of the Law
When the relationship is established, cultivated and maintained on the social platform only, the relationship may be connected to the brand, but it is owned by the platform.
If relationships are worth their weight in gold, most marketers leave the social media mine untapped. When was the last time you downloaded your Facebook friends as connections? Do you export your LinkedIn connections regularly? If the reasons to do so are unclear, I recommend reading the post Who Owns Your Social Network?
Some social media platforms make it difficult to leverage relationships outside the environment they created for you. After all, when you take it off their site, they lose leverage, data and no longer own the relationship.
Losing control as the conduit for relationships between people and brands would be inconsistent with how most social platforms survive. So, the responsibility to take ownership of the relationships initiated through social media falls squarely on the shoulders of the brand manager.
Lure Them Home
The indisputable truth is that brands are seeking to leverage social to further their own goals, not those of the platform.
One of the most effective ways to optimize ROI from social media marketing efforts is to establish and cultivate relationships on social media, and then lure them to home: the website. The website affords greater flexibility in customizing the user experience with unique landing pages, soliciting feedback, inviting opt-in for future email communication, special offers, the collection and application of data and analytics, to improve every step of the way.
---
---
Categories: Digital Advertising, Social Media