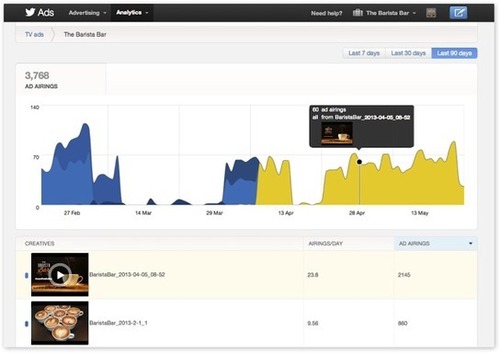 How the world experiences TV has fundamentally changed. We no longer watch TV as a silent participant, rather as an active voice, sharing the experience as events unfold with people across the globe. Last year, 32 million people in the U.S. tweeted about TV programming: big events, like the Super Bowl (24 million Tweets) or their favorite weekly series, like American Idol (5.8 million Tweets during 2012). People tweet so much about TV that Twitter is becoming a fundamental part of how TV is measured.
With this shift in our sights, we're announcing the availability of TV ad targeting on Twitter.
TV ad targeting was developed over time through the 
acquisition of Bluefin Labs
 and is designed to make it even easier to extend and enhance TV ad campaigns. TV ad targeting for Promoted Tweets is available today in a limited beta to selected partners running national TV commercials in the U.S.
TV ad targeting enables marketers to engage directly with people on Twitter who have been exposed to their ads on TV. Synchronized Twitter and TV ad campaigns make brand messages more engaging, interactive and measurable, while making it easy for marketers to run always-on Twitter campaigns that complement and amplify their TV creative.
To help facilitate a coordinated, multi-screen effort, we're giving advertisers a new TV Ads dashboard, which shows when that specific brand's TV ads have aired. This will help digital teams align not only with what's shown on TV and when, but give insight into how Promoted Tweets can be crafted in the most effective ways to build upon broader marketing themes.
Continue reading on advertising.twitter.com
---
---
Categories: Social Media, Television, Twitter