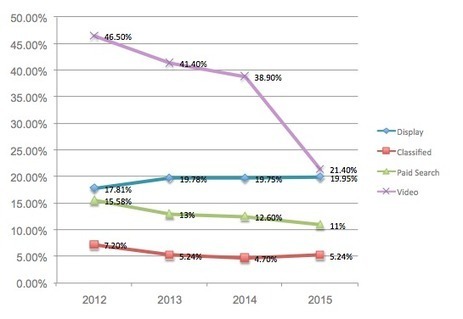 Digital advertising is experiencing positive growth across the board with digital publishers in the UK experiencing a 16.2% increase in revenues in Q1 2013. Looking at annual growth, video advertising led the charge here with a 56.4% increase in revenue, according to a study by Deloitte and the Association of Online Publishers (AOP).
Old Ads Die Hard
Even though all areas of digital advertising are growing year on year, some are showing signs of slowing down. Lagging behind the 56.4% growth experienced by video, online classifieds grew just 3.1%, falling well below the industry average for digital ad growth of 16.2% overall.
This downturn in growth is reflected in other markets. Australia saw annual growth for 2012 halve to 8% compared to 16% in 2011,  and globally, Zenith has predicted share of digital ad spend to 2015. Its forecasts, published in 2012, show that while online classified spending will continue to grow, its share of the overall market will drop.
Continue Reading on www.simplyzesty.com
---
---
Categories: Advertising, Video