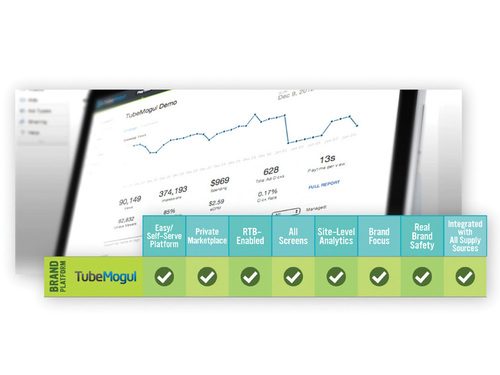 Real-time buying is rapidly gaining the attention of today's most prominent media buyers by taking an increasing share of digital budgets. In the world of video in particular, Forrester Consulting predicts that by 2014, 24.7% of all online video spend will be done using RTB; and similarly the use of RTB as a whole will grow by 57%.
For brand advertisers, buying ads in real-time is becoming the go-to method to quickly and efficiently execute a branding campaign. For brands, the ease of being able to plan and update their campaigns in real time, based on performance analytics, is invaluable especially when platforms like TubeMogul can report on the quality of every single impression bought. The data allows brands to identify their ideal user, while transparent reporting means that brands can trust their ad is in front of their target audience, in a brand safe environment. With this in mind, let's take a deeper look at 5 ways brands can benefit from buying video advertising in real time.
1. Impression-by-Impression Buying and Valuation
Real-time bidding enables brands to bid on individual impressions rather than agreeing to a predetermined fixed price. Buying in real time is cost effective, reduces waste and prevents advertisers from overpaying for media. TubeMogul's Platform for Brand Marketing allows marketers to evaluate impressions as they come in and make changes mid-campaign based on real-time performance feedback analytics, such as replacing underperforming video units. Real-time bidding means brands only pay what an impression is truly worth.
2. Targeting Technology
Data has become somewhat of a cryptic buzzword when it comes to advertising technology, but advertisers are becoming more aware of the benefits of first and third party data to target desired audiences. With the help of third party data vendors, advertisers can successfully profile their ideal audience by modelling the attributes of existing customers. By taking advantage of first party data, advertisers can optimise their audience based on known quantities – their own customer base. Real time bidding allows advertisers to access the media they want, for the people they choose.
Continue reading on www.thedrum.com
---
---
Categories: Programmatic, RTB