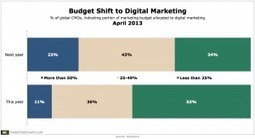 What's more, the majority of that increase comes in the "more than 50%" category. That is, fully 23% of CMOs surveyed plan to devote the majority of their budgets to digital marketing next year. That's about double the 11% giving digital that much of the pie this year.
The reorganization of the marketing budget comes at a time when CMOs see big changes on the horizon. 7 in 10 respondents feel that the marketing function will fundamentally change over the next 5 years – with that figure higher among B2B2C (74%) than B2B-only (62%) companies.
CMOs may approach these changes with some amount of trepidation: separate results from the survey indicate that confidence in their preparedness is falling. That is, in 2012, 61% felt prepared, down from 66% in 2011. In 2012, CMOs also indicated more difficulty in improving the efficiency of their marketing operations and improving their workforce's responsiveness to digital shifts and changing consumers.
In order to tackle those employee-relating challenges, CMOs say they'll also be working on optimizing their internal skills, by emphasizing some areas over others. For example, next year 24% will dedicate 41-60% of their employees to digital marketing (up from 21% this year) and 26% will dedicate that share of their employee focus to customer analytics (also up from 21%).
---
---
Categories: Leadership, News