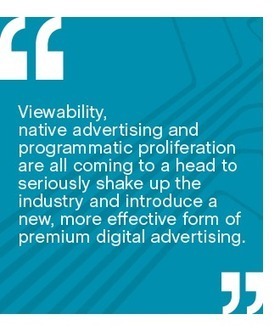 "The truth is, digital media is overpriced."
I believe I flinched a bit as the agency executive made that blunt statement. We were chatting in the wake of a heated conference session about viewability, where the chief concern among the publisher quotient had been are agencies really going to pay more for viewable impressions?Supply side representatives seemed unanimous in their disbelief.
Even as publishers struggle to bring in meager CPMs by tacking on audience segmentation, offering audience extension programs and now adding viewability metrics, digital media is still considered too expensive by the buy side. Is there no pleasing them?
Of course, it was more surprising to see how many publisher revenue strategists agreed that, yeah, digital media is overpriced – not all, but a healthy number candidly shrugged and nodded their heads when queried. An aggravating amount of manual processes go into producing generally mediocre-performing campaigns.
Wasn't audience targeting going to be the industry's savior? While advertisers are increasingly demanding data-driven ad products from their publisher partners, audience has been commoditized – every site may have a distinct audience, but they can be reached through a variety of channels. It is no longer a differentiator for publishers – it's simply the new normal, another line item expected by advertisers.
So if both sides understand – and dislike – these mundane steps, why do we keep up this same dance?
Continue reading on the-makegood.com
---
---
Categories: Programmatic, RTB