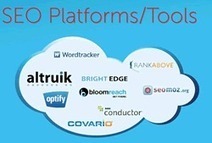 The Content Marketing Landscape Infographic' does more than categorizing and summing up some content marketing software platforms. It also looks at websites, social networks, resources and tools regarding all aspects of content marketing and related marketing tactics.
The way the infographic is structured shows why and how content marketing is being increasingly used today and is a snapshot of content marketing anno 2013 with the converged imperative of the three sets of digital marketing tactics all content marketers are looking at. An overview, some conclusions and a look at the state of content marketing as it's seen now in most cases, as reflected by the map.
'The Content Marketing Landscape Infographic' categorized and analyzed
There are a few main categories in 'The Content Marketing Landscape Infographic', showing how a holistic content marketing approach is perceived by the content marketing agency:
Search engines.
Search engine marketing tools.
Content creation.
Content sharing.
Social networks & other.
PR distribution.
Analytics.
Each of the categories is divided into different subcategories and shows the logos of some players and software platforms or agencies, obviously mentioning Content Amp as well. The categorization of the platforms is not bad at all. There are some interesting subcategories we include in our ongoing content marketing software categorization and review efforts as you'll soon discover. Some categories are somewhat strange. Calendar tools, for instance, are ranked under SEM tools. Nevertheless, it's certainly worth a good look.
Even if the categorization is not complete, the infographic most of all shows how vast the content marketing landscape is, certainly when looking at the different platforms and content marketing software enabling you to fulfill some steps in the content marketing strategy, planning, production and measurement process and realizing that there is much more as you'll read in an instant.
Continue reading on www.contentmarketingexperience.com
---
---
Categories: Content Marketing, Leadership