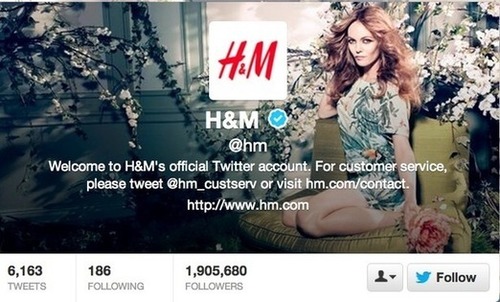 H&M is rated as one of the world's top 25 brands, so it's a great candidate for one of our posts looking at how brands use the four main social networks.
It follows on from similar blogs looking at the social strategies of major brands including Nike, Red Bull, Walmart and John Lewis.
H&M has actually gone to the trouble of publishing the basis of its social strategy online. It states that through social media "millions of H&M fans and followers share ideas and opinions and get quick answers to their queries."
It has official accounts on almost every major social network, including Chinese platforms Youkuand Sina Weibo.
Unfortunately my Mandarin is a bit rusty, so for this post I'll just focus on Facebook, Twitter, Pinterest and Google+…
Facebook
H&M has attracted more than 14m fans to its Facebook page and posts several updates a day except on weekends.
Most of the updates focus solely on promoting its products, but in among the bog standard "buy these trousers" posts there are some really neat promotional ideas.
For example, the retailer clearly does a lot of blogger outreach and often links to third-party blog posts and articles on its H&M Life site.
Similarly, H&M has run several competitions recently that require fans to submit their own photos for a chance to win, which is a great way to encourage engagement that is relevant to the brand and more meaningful than just asking for a 'like' or retweet.
Continue reading on econsultancy.com
---
---
Categories: Social Media