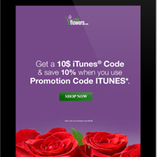 Apple's iAd campaigns that offer users a digital reward generate click-through rates as much as 12 times higher than those offering a standard discount such as a percentage off for a purchase, according to a new report from Ifeelgoods.
Marketers are increasingly considering offering users digital rewards such as credits from iTunes, Amazon, Facebook and others to encourage consumers to make purchases, opt-in to receive SMS alerts or download an app. The results point to how mobile is changing how consumers shop and consume content.
"What we are seeing is that people's lifestyles have completely changed," said Michael Amar, CEO of Ifeelgoods, Redwood City, CA. "They are immersed in digital, they are watching programs online, listening to music on iTunes, playing games on mobile and it is harder for the marketer to get their attention.
See on www.mobilemarketer.com
---
---
Categories: Digital Advertising